'Bigfoot' is spotted walking through rural Colorado: 'We were looking for elk'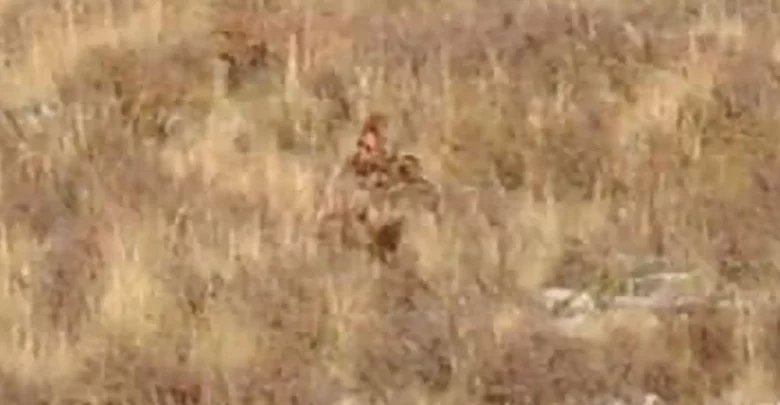 A couple taking a train ride through rural Colorado sent Bigfoot enthusiasts into a frenzy after posting footage of a mysterious figure walking through the mountains online – which many have speculated could be the elusive creature.
Shannon Parker and Stetson Tyler were travelling on the Narrow Gauge train ride from Durango to Silverton and were "looking for elk" when they spotted movement on the mountainside.
A video captured by a fellow passenger shows a large, bipedal creature moving across the pass, before stopping and squatting down on its haunches.
"After leaving Silverton and heading back to Durango, I asked Stetson to help me look for elk in the mountains. As we are passing by the mountains, Stetson sees something moving and then says I think it's Bigfoot," Ms Parker wrote on Facebook.
"Brandon, the guy sitting next to Stetson on the train, grabs his phone and starts recording… Y'all, out of the hundreds of people on the train, three or four of us actually saw, as Stetson says in the video, the ever elusive creature Bigfoot!
"I don't know about y'all but we believe!"
Ms Parker later told The New York Post that the creature had been "at least six, seven feet or taller" and had been camouflaged amongst the mountain sage. She added that the train's conductor told the couple of a similar, previous non-human sighting.
"He said that he went out snowshoeing in those mountains before and had seen footprints that were larger and of much bigger stride than snowshoes would have been," Ms Parker said.
"He has seen unexplainable things as well."
Ms Parker's post on Facebook received mixed responses, with some users claiming that they also "believed" and others remaining sceptical.
"And what were y'all drinking?" one user commented
According to the National Guard, legends of Bigfoot go back beyond recorded history, and come from all over the world – including tales of "seven-foot-tall hairy men stalking the woods, occasionally scaring campers, lumberjacks and hikers".
Sightings of the creature, also known in other cultures as Sasquatch or Witiko, have been reported by North American settlers during the late 1800s and 1900s.