Abandoned Mushroom house in Northern Michigan lists for 4.5 milion $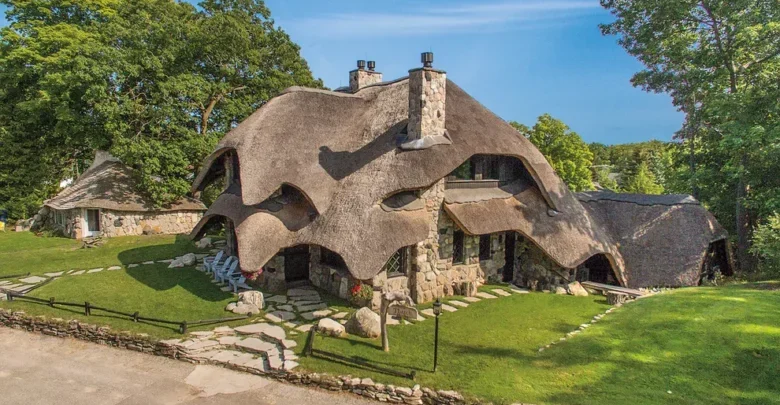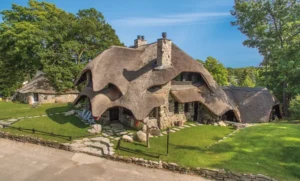 Have you ever wanted to live in a home that looks like it was taken right out of a storybook?
This $4.5 million sprawling mushroom-shaped home in Charlevoix will help you live out your wildest hobbit dreams. The main house, known as the Thatch House, and guest house, referred to as the Chalet, total 6,000 square feet and together boast seven bedrooms and six and a half bathrooms.
The listing went viral online after being featured on Zillow Gone Wild, a popular social media page that highlights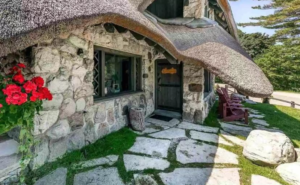 This whimsically designed home, at 304 Park Ave. in Charlevoix, was built more than 100 years ago with stone walls that were set by Earl Young, an artist and hobbit-home architect known for building iconic structures throughout northern Michigan, according to a tourism website for Charlevoix. The site notes,
"Over the course of his fifty-year career, Young would build twenty-six residential houses and four commercial properties," the Visit Charlevoix site notes. "His works are made mostly of stone, using limestone, fieldstone, and boulders that he found throughout Northern Michigan."
Listing agent Nate Granata said Young extracted the original stone walls, which stand today, with stones that he retrieved by hand from Lake Michigan right across the street from where the property is located to this day.
According to the Charlevoix city website, Young's houses are known as Gnome Homes, Mushroom Houses or Hobbit Houses. A self-guided tour brochure is available here. (Note: these are privately owned homes and not open for inside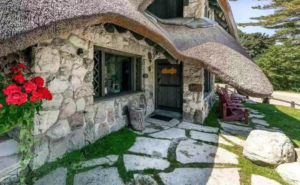 When it was originally built, the house, still listed for sale as of Wednesday, did not represent Young's now-distinctive hobbit-home style, but was given a reimagined renovation by the new owner, Dr. Michael Seitz. Granata said Seitz, who has a Ph.D. in engineering, took it upon himself to completely renovate the Thatch House into the storybook home it is today.
The house's distinctive, flowing roof was installed professionally by a master thatcher who was flown into Michigan from overseas, Granata said.
"He kept the structure of the original walls that were Earl Young built, so he kept that character there," Granata said. "It's definitely a piece of art and it's got the historic side to it as well."
"There is not a Home Depot door in that house, everything was custom made or imported, even the door to the HVAC room and the whole entire house from the bathrooms to the living rooms and kitchen are all in-floor heat."