Abandoned 1891 Mooreland Mansion Sold for $78K in Harrodsburg, Kentucky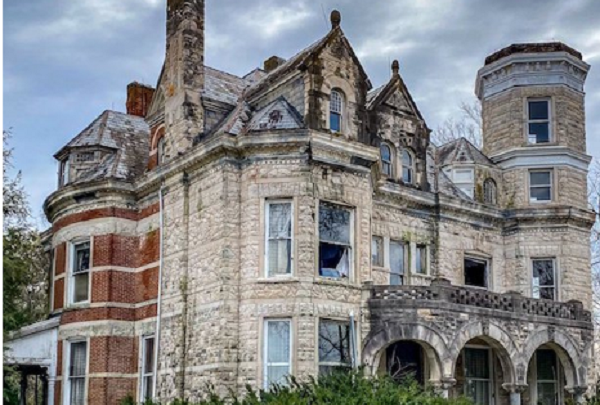 Despite being one of the largest and most fascinating structures in Harrodsburg, Kentucky, the historic Mooreland Mansion, once known as Ashfeld Manor, has been abandoned and let to deteriorate. According to property records, the residence sold on May 22, 2020 for $78,101. On April 18, 2020, the structure and the 2.96 acres it resides on were listed for $49,500 and were labeled as pending four days later.
Colonel Daniel Lawson Moore erected the Romanesque Revival home in 1891 for his wife, Miss Minnie Ball, and while the architect is unknown, the style has been compared to that of Clarke & Loomis. The Mooreland Mansion was previously sold to a bank in a foreclosure auction for $329,465. The most recent ad identified the property as a construction site with a house. "No one may enter the house due to health and safety issues. The land is being offered "as-is, where-is."
Thank you to the Bluegrass Team for the photos.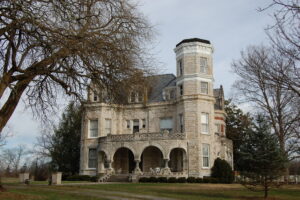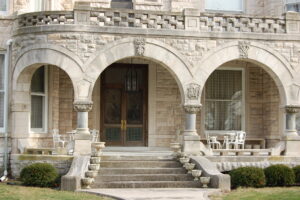 Needless to say, we were taken aback as we drove by the property on our way to the Foreclosure Auction —- wow, we had no clue it had been exposed to the elements for so long. There were doors that were completely open (which is how we acquired these photographs) and doors that were chained, bolted, or screwed shut (see the images we took through the glass or screen doors). We are grateful that they left some of the doors open – wide open for us to view – so that we did not bid on anything that appeared to be very different from what was accessible online.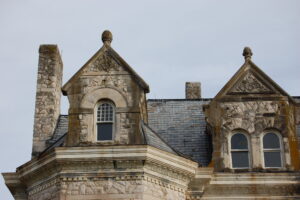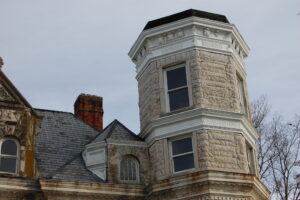 It was particularly intriguing to learn that this 45-acre property had been partitioned, with the Castle and 2.947 acres remaining.
I believe it is fair to say that it required far more labor than most people anticipated. I believe it is also reasonable to say that we are all hoping that someone with a passion for ancient houses – and access to a King's ransom – will come to this property's rescue. It was once a crown gem, and it begs for assistance.
This property was sold at the Master Commissioner's sale and repurchased by the bank at the foreclosure auction on January 24, 2020, for $329,465.
Call or contact Hunter Simmons at 859-319-3555 for additional information on available homes. Bluegrass EXP Realty Team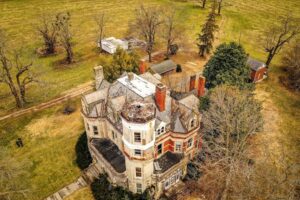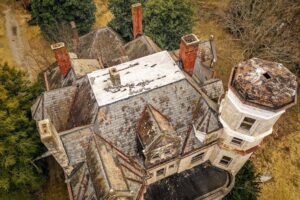 Colonel Daniel Lawson Moore erected the huge Romanesque Revival home at Mooreland, an estate located east of Harrodsburg, Kentucky, for his second wife, Miss Minnie Ball of Woodford County, whom he married in 1891.
The house is the largest in Mercer County and the most beautiful Romanesque Revival structure in Central Kentucky. It took five years to construct. The architect's identity is unknown. The mansion is architecturally comparable to the Theophilus Conrad house at St. James Court in Louisville, which was designed by C.J. Clark and Arthur Loomis and erected in the mid-1890s and is regarded the greatest example of its sort in that city.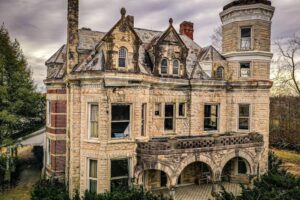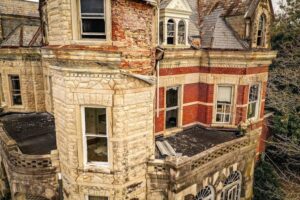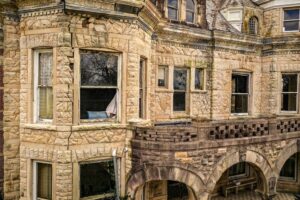 Mooreland's mansion is made of limestone and brick, with the front fully made of stone. Each block is meticulously tooled, either with ribbing or with a bush-hammer, and is set with pink mortar. The façade has a veranda with huge semicircular arches supported by short round polished granite pillars with finely carved limestone capitals. The veranda bends into octagonal shapes at either end, with a four-story tower at the south end capped by an entablature and parapet.