for £750k, an abandoned estate dubbed "welsh versailles" is available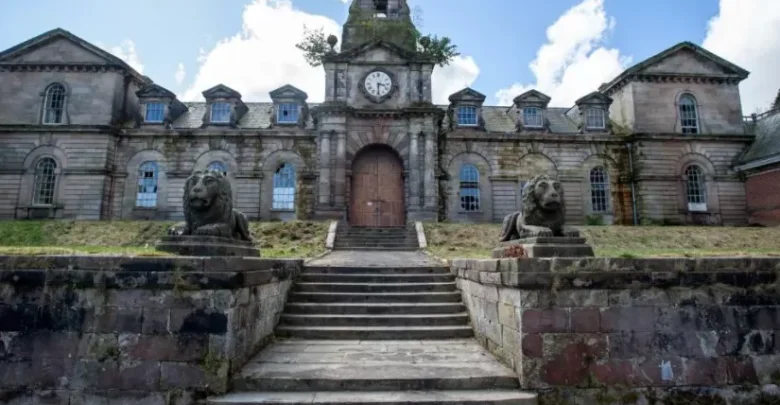 A 200+ room abandoned estate known as the 'Welsh Versailles" has been up for sale for £750,000.
The 173-year-old estate Kinmel Hall in Abergele, Conwy, North Wales, was previously "let to rot"until being listed for sale last week.
During the real estate boom more than ten years ago, the 500-foot-long estate was marketed for an outrageous £15 million.
In an effort to preserve the Grade I-listed mansion, the Friends of Kinmel Hall advocacy organization has chimed in.
The home, which is situated in 18 acres of walled gardens and was previously visited by Queen Victoria, has recently been listed for sale by estate agents Allsop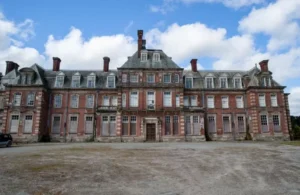 The 200 room castle
The mansion still has many original elements, including vast Edwardian halls and substantial original oak staircases, despite its state of disrepair.
The entire space has beautiful old cornicing and high ceilings.
Along the walls of many of the rooms is original wood paneling.
The grounds include a sizable stone fountain, acres of trees, and imposing stone lion statues.
The 1870s-era building was purchased for £1.45 million in 2011 with the intention of converting it into a hotel.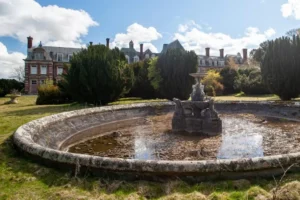 A fountain on the grounds
It is being auctioned off on May 13 for the bargain sum of £700,000.
Since Kinmel Hall contains 365 windows, one for each day of the year, it is referred to as a calendar house.
Due to its exterior's chateau-style design and rows of towering windows, it is also known as the Welsh Versailles.
The magnificent structure, which is situated on 18 acres of walled gardens, has been deteriorating for twenty years.
The history of the castle is extensive and fascinating.
The magnificent French chateau-style structure has served as a health spa, military hospital, and an all- girls school in addition to being one of the most outstanding private mansions in Wales until 1929.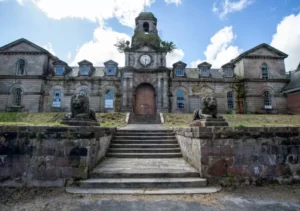 The clock
Despite its interesting past, the structure has been abandoned for more than 20 years.
The prospect has previously been referred to by locals as "someone's own chance to buy a discounted Downton Abbey"
"We are almost a week into our marketing now, and interest has been significant so far" said Gary Murphy, the auctioneer at Allsop. Although it is impossible to predict the final auction price, competitive bidding is expected. To ensure that the true worth of this unique property is decided in an honest, competitive, and transparent manner, auction has been chosen as the method of sale